Radcliffe Bailey (American, born 1968)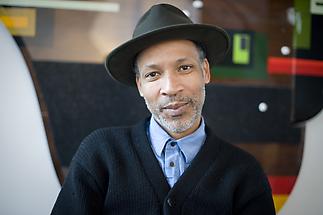 Radcliffe Bailey, born in Bridgeton, NJ, is an artist who prides himself through his experimentation with multiple types of media. In 2003, the artist began working on a series, entitled: Medicine Cabinet Sculptures. In the series, he combined both sculpture and painting.   Radcliffe also works through the means of small-scale watercolor paintings, which he proclaimed were inspired by Indian miniatures. Bailey is also heavily influenced by his African heritage.  The artist focuses on influential historic figures when searching for inspiration.
"My art is about history and the mystery of history. Scientists, preachers, tricksters, they are my muses"- Bailey in his artist statement
The artist experiments with size, scale, color, sound and smell; this is seen in Radcliffe's large scale, three dimensional and multi-sensory works. Bailey does not identify with one specific label as he refers to himself plainly as: an artist, taking on the tasks of the painter, the sculpture, and the political activist.
"I see myself as making work that is universal in many ways. First and foremost people say, "You're this, you're that," but I'm human. These names and categories change across time and I want to make work that's timeless. And I want to make work that deals with who I am as a person, politically or spiritually" – Bailey in an interview with Lilly Lampe
The artist continues to make work that focuses on heritage and history. Radcliffe Bailey currently lives and works in Atlanta Georgia, where his exhibition, "Medicine Cabinet Sculptures, is displayed.